When Valentine's Day comes around, most men find themselves running around at 100 KPH trying to find a solution. Every partner deserves something special in life, and therefore our 2018 Valentine's Day Flower Arrangements are well worth your time looking over. With some high-quality flower arrangements to get you inspired and excited for this year's armada of love, you can order our fresh flower arrangements below to give your partner the kind of solution that will make them smile from ear to ear.
What kind of Valentine's Day flower arrangements offer you the perfect solution?
Roses and Chocolates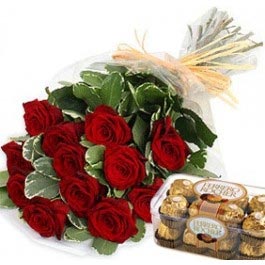 What better way to give your partner a sign of your love and affection than with our fine collection of 12 stalks of passionate Red Roses with Ferrero Rocher? As one of the most commonly enjoyed styles of flower arrangement, the classic rose does a great job of making the right impression without wasting any time.
They also give your partner something nice and fun to enjoy eating down on when you get to spend that loving and romantic day together!
12 Red Roses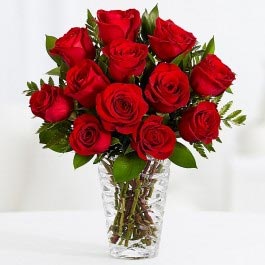 The rose always wins, and if you want to stick to the classic then go for this fine range of 12 red roses in a vase. These look great, arrive in sumptuous style and offers that kind of loving and easy to engage with flower arrangement that should be universally loved by your partner.
Unless she just so happens to hate red or is allergic to roses, this should be just perfect!
Bursting with Love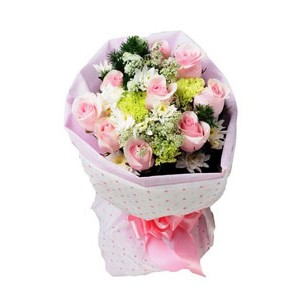 The best thing about this little Bursting with Love bouquet is the almost timeless nature of the design. A fine blend of nature with rich pinks, grandiose greens and stylish selections should leave you with the perfect choice of goods for that kind of immediately impressive and intensive gift for your partner.
Pick this up and you can really give her the kind of gift that she isn't too likely to forget anytime soon, that's for sure!
If you find it hard to give over a good Valentine's Day gift, then you should look to use this as soon as possible. With such a richness and variety in the design, you should find it very easy indeed to deliver a loving and impressive range of Valentine's Day flowers. A most wonderful choice for anyone really looking for that extra depth of quality and consistency when it comes to the right kind of flower arrangement designs is always useful, right?
Let's get you nice and inspired to make sure that your Valentine's Day this year is perfect. Order Valentine's Day flowers to your loved ones in the Philippines today!